To reduce the cost of the whole storage solutions, we always try many cost-effective designs and new materials for our clients' warehouses.
Galvanized upright post is a new and popular application in the Drive-In and Drive-through system which is a very high-density and popular racking system with a high density which is ideal for homogeneous, low-rotation products with a large number of pallets. This racking system is very suitable for volume cargo with few categories.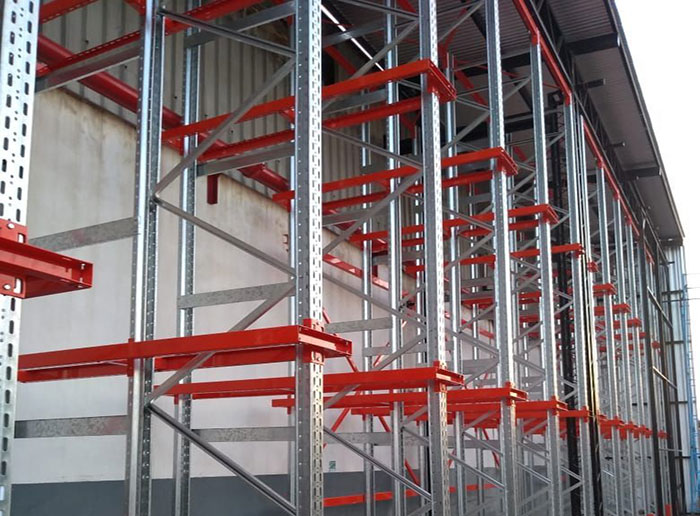 Drive-in consists of a continuous block of frames and an undivided aisle. The workers can drive the forklift right into the center of any rights, then pick up pallets easily.
By doing this, an enterprise can realize the first-in-last arrangement of goods and improve the utilization rate of warehouse space and working efficiency.
Compared with a selective pallet racking system, this design does not require cross beams, the pallets are put on continuous rails which are supported by brackets on each level. Top and back bracing are linked very stable. The drive-in racking system is also named the corridor racking system.
The Height of the drive-in system should be lower than 11000mm for its stability and safety considerations. If the system with only one end for the bays, it is a drive-in, instead, if with two ends, then it is a drive-thru. With only one entrance, the last pallet into a row is necessarily the first to be taken out. Drive-thru with two entrances, so it can FIFO arrangement. It is good for goods with an expiration date or wherever shelf life is a major concern.
Apply the galvanized upright post and bracket rails, like the project photo attached, it is not only to meet customers' storage demands but also to reduce the budget. That's why such designs and systems are more and more applied in the market.