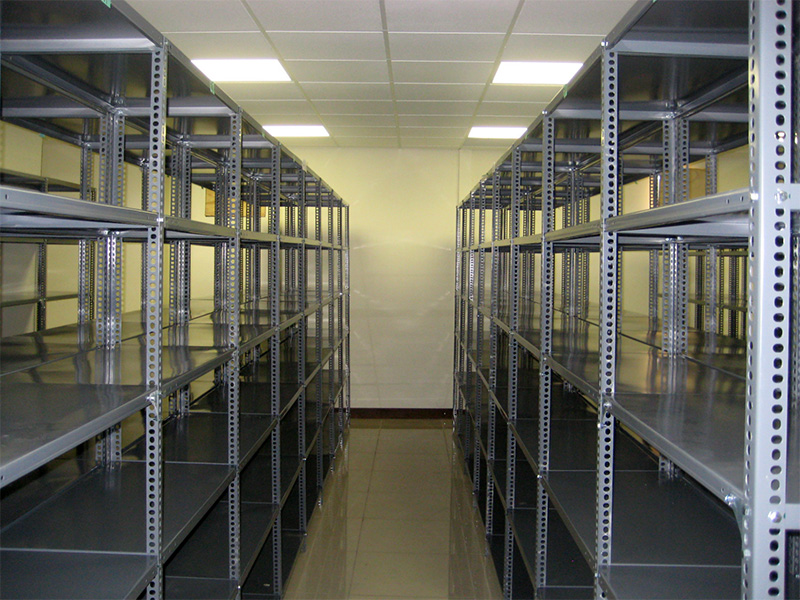 Angle Steel Shelving Project
Angle steel shelving is suitable for light goods, a simple and economical solution with a wide range of uses. The shelving units are fully removable, which means they can be modified or expanded height and length-wise. The system is ideal for the manual storage of light and even relatively heavy loads.
Slotted angle shelving is designed and constructed to allow easy installation and assembly, making it a popular choice for DIY projects, small businesses, and personal use. The angle steel used in its production provides strength and stability, ensuring that the shelving can safely support a variety of items. The slotted design of the angle steel allows for adjustability and flexibility, making it possible to create customized storage solutions for a variety of spaces and requirements. Additionally, the open design of the shelving allows for easy access and visibility of stored items, making it a practical and efficient storage solution. Overall, slotted angle shelving offers versatility, durability, and affordability, making it an excellent choice for those looking for a practical and cost-effective storage solution.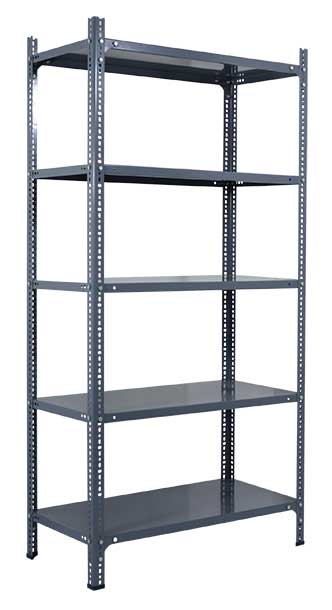 Advantages of Angle Steel Shelving
Versatility and Adaptability: Slotted angle shelving is a versatile and adaptable solution for a wide range of storage needs. The fully removable shelving units can be easily modified and expanded both in height and length to accommodate changing storage requirements.
Cost-effective and Easy to Install: Slotted angle shelving is a simple and economical choice for light goods storage. This system is easy to install, requiring minimal tools and equipment. It is also a cost-effective solution that can help businesses save money on storage expenses.
Strong and Durable: Despite its simple design, slotted angle shelving is a strong and durable storage solution. It can handle both light and relatively heavy loads, making it ideal for the manual storage of various items. The sturdy construction ensures that the shelving units will last for years, providing reliable storage for your business.
At our company, we pride ourselves on providing high-quality angle steel shelving that is designed to meet the unique needs of our customers. Our shelves come in a variety of sizes and configurations, ensuring that you can find the perfect fit for your space. We also offer a range of accessories to customize your shelving even further, including Angle Posts (Equilateral or Inequilateral), Shelves (With Supporter or Without Supporter), Corner Plates, Bolts & Nuts, and Base Plate.
Angle Steel Shelving Accessories
Angle steel shelving is a versatile and durable storage solution that can be customized to fit the unique needs of any space. In addition to our high-quality angle steel shelving units, we offer a range of accessories to help you further customize your storage solution.
One of our most popular accessories is our angle posts. Available in both equilateral and inequilateral options, these posts allow you to adjust the height of your shelves to accommodate items of different sizes. We also offer shelves with supporters or without supporters, so you can choose the style that best fits your needs.
If you need to create a corner unit, our corner plates make it easy to do so. These plates can be attached to the ends of two shelving units to create a seamless corner. And for added stability, we offer bolts and nuts that can be used to secure your shelving units in place.
Finally, our base plates provide a stable foundation for your shelving unit. Made from durable materials, these plates help to distribute the weight of your shelves evenly, reducing the risk of damage or collapse.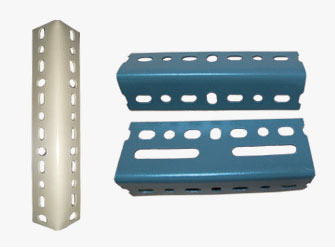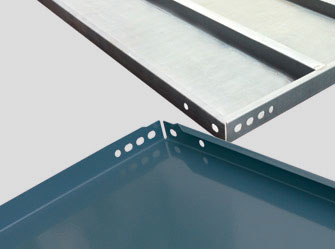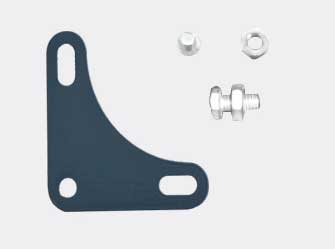 Accessories parameters
| Name | SPEC (mm) | Thickness (mm) | Length | Capacity (lbs) |
| --- | --- | --- | --- | --- |
| Angle Post (Equilateral) | 35x35 36x36 37x37 38x38 40x40 | 1.5~2.0 | H24"~144" | 1000~3000 |
| Angle Post (Inequilateral) | 60x40 57x37 | 1.5~2.0 | H60"~192" | 1500~3500 |
| Shelves (Without Supporter) | 900x300/400/450/600 | 0.7~1.0 | | 100~200 |
| Shelves (With Supporter) | 900x300/400/450/600 | 0.7~1.0 | | 150~350 |
| Corner Plate | 70x70 | 0.7 | | |
| Bolts & Nuts | M8x16 | | | |
| Base Plate | | | | |
In conclusion, our angle steel shelving is a reliable and versatile storage solution that's suitable for a wide range of applications. With its unique design, adaptability, and aesthetic appeal, it's an excellent choice for anyone looking for a durable and practical shelving option. Whether you're looking to create a custom storage solution for your home or business, our angle steel shelving accessories offer a range of options to choose from. You can create a storage solution that's both functional and stylish to meet your specific needs. Contact us today to learn more about our angle steel shelving options and find the perfect fit for your requirements.