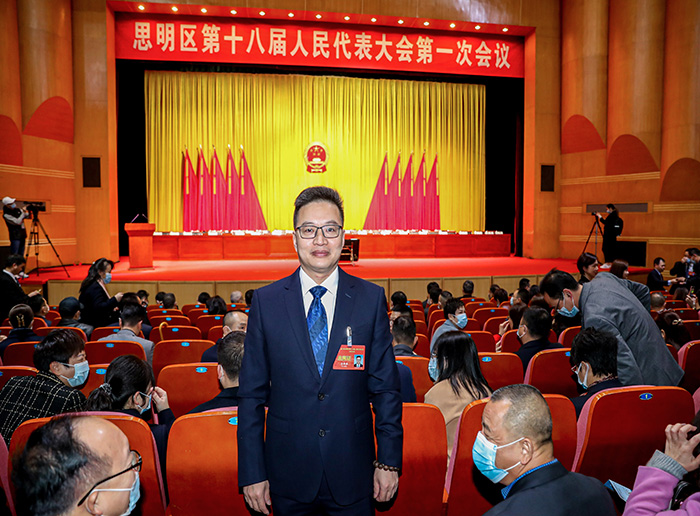 On December 27, the 18th National People's Congress of Siming District was held in Siming District, Xiamen, Fujian, China. Mr. Wang Shengchun, The General Manager of Aceally Group, is honored to be re-elected as the representative of the 18th National People's Congress of Siming District, Xiamen City, Fujian Province! Mr. Wang Shengchun has served as the representative of the 16th and 17th Siming District People's Congress. He also serves as the honorary chairman of the Xiamen Internet Merchants Association of Alibaba Minshan Region. The Alibaba Internet Merchants Association takes integrity, sharing, innovation, and responsibility as its values. Through the alliance of Internet merchants, it promotes the connection and learning between enterprises and better serves customers all over the world.
The conference summarized the various tasks of the Siming District Government in 2021, including the continuous enhancement of the ability to fight the epidemic and the overall development of the economy; accelerate the construction of a modern industrial system for the economy; improve the comprehensive carrying capacity of the environment, and the people's well-being index has steadily increased. Meanwhile, Looking forward to 2022, the government will work to further improve the energy level of innovation-driven industries; further, improve the function of district construction; further, improve the business environment of reform and opening up; further improve the well-being of people's livelihoods; further improve the level of humanistic advantages and civilization; and build the people's satisfaction by itself Service-oriented government.
(Xiamen) Technology Co., Ltd. is committed to building a world-leading integrator of storage system solutions for space intelligent manufacturing and related fields. Products include radio shuttle racks, drive-in/through racks, selective pallet racks, mezzanine, platform, automated warehouse systems, cantilever racks, long-span shelving, angle steel shelving, boltless rivet shelving, supermarket shelving, and related material handling machines. It is widely used in communication electronics, mechanical equipment, medicine, textile, food, logistics, auto parts, the military industry, and other industries. Serving customers in more than 60 countries and regions around the world. Solve every warehousing system and display demands for customers. Maximizing the use of existing space, creating the greatest value, and saving every cost are goals of every Aceally staff.