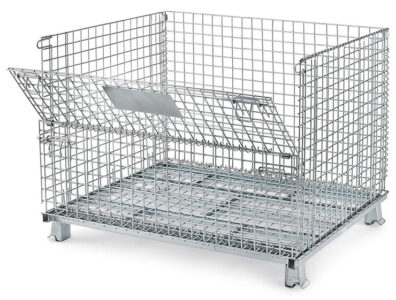 The Wire Mesh Cage from Aceally factory is with or without movable castors or hollow boards, totally depending on your specific storage need, also known as a Warehouse Cage, Wire Mesh Container, etc., is a standard logistics container, mainly used for storage of heavier or large items and mechanized turnover and handling, especially suitable for small and heavy hardware parts. It has been widely used in Europe, America, Southeast Asia, the Middle East regions, etc.
The main materials of the storage cage are low-carbon iron wire, channel steel, hot-rolled steel plate, etc. The shape of the storage cage feels light and handy, except for the bottom frame, the cage body is composed of meshes welded by iron wires. The sheet, the mesh sheet, and the bottom frame are connected by a small connecting piece and can be moved. When the storage cage is empty, it can be folded and stored to make full use of the space. The front of the storage cage can be opened, and the objects can be retrieved after stacking. On the side mesh. Storage cages are now fully stackable, foldable, and portable, and they have increasingly become an important standard logistics container for logistics circulation.
The characteristics of storage cages:
Uniform specifications, fixed capacity, clear storage, and easy warehouse inventory.
Forklifts, elevators, and cranes can be used, and four layers can be stacked on each other to realize three-dimensional storage.
Easy operation, wide application, long service life.
It is made of strong iron wire butt welding, and the bottom is reinforced by U-shaped channel steel welding, making the structure stronger.
Cooperating with forklifts, trolleys, hydraulic pallet trucks, and other equipment, it can be applied to all aspects of logistics such as transportation, handling, loading and unloading, and storage.
A hollow board can be selected as a gasket to protect the loaded workpiece.