Very Narrow Aisle Pallet Racking (VNA) combines the advantages of adjustable pallet racking and compact pallet racking systems with better use of the available space while maintaining direct access to all the stored unit loads.
Aceally VNA pallet racking systems are designed to meet the new generation of warehouses up to 17 meters high, designed around the operating tolerances of Very Narrow Aisle (VNA) equipment with aisles marginally wider than the load. Such structures must have a high level of rigidity and accurate manufacturing tolerance.
Increased capacity with increased height
Warehouse capacity can be increased by an additional 40% over Selective Pallet Racking by increasing operational height and reducing operation aisle.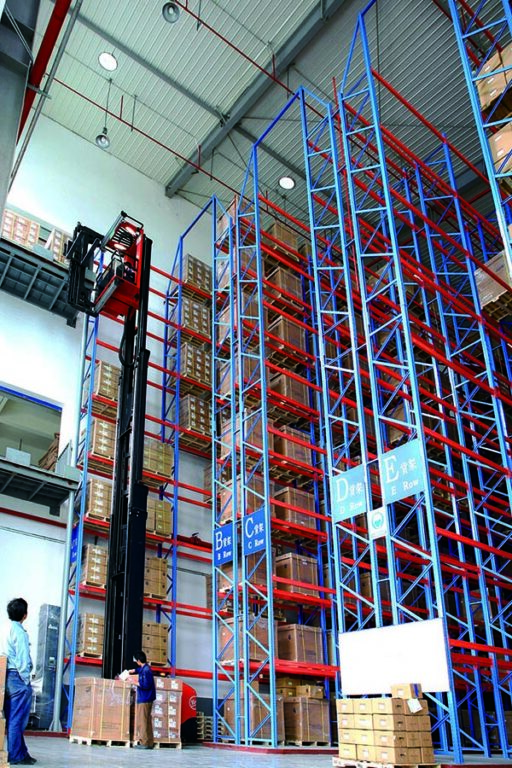 High-Bay Storage Advantages
Good stock rotation
Good order picking: 100% selectivity
Fast picking rate
Good product protection
50% net pallet area usage of the overall warehouse area
Limited pallet redundancy as the system can run at 95%+ capacity
Uses guide rails or wire guidance for fast movement in the aisle
Main applications of Very Narrow Aise (VNA) Racking System:
VNA Very narrow aisle rack is a widely used solution as it is very versatile and optimizes space.
Especially recommended for companies whose warehouses have any of the following characteristics:
Warehouses that need direct and instant access to each unit load, but also need to optimize the available space.
Warehouses with unit loads of very lots of references.
Warehouses that store heterogeneous products that require a high turnover rate.
Warehouses with a small footprint, but very tall systems can be installed.
Most Suitable for:
Designed to meet the new generation of distribution centers up to 17 meters high, it requires a super flat floor.
Interested in finding out more about narrow aisle racking or very narrow aisle racking options for your warehouse? Request more information now.
Some of our VNA Very Narrow Aisle Pallet Racking projects photos: