Cantilever rack is a steel shelving unit that is unique among racks. Long arms protrude from the metal frame and can be used to store almost any type of load, but are especially useful for long, bulky, or awkward materials that don't quite fit on pallets.
The cantilever racking system is suitable for forklifts and is commonly used to store various building materials, structural members, and other items such as conduits, pipes, lumber, plasterboard, rebar stock, pipes, coils, extrusions, doors, Furniture, appliances, and even cars.
Since the rack has no front posts, this increases the usable horizontal space, helping to maximize storage capacity and density. With no front posts, each storage slot is immediately accessible for easy loading and unloading. This arrangement makes racking more selective than many traditional options and reduces processing time and cost. These arms also offer adjustable rack openings to easily accommodate various load sizes.
Both reduced handling time and increased space utilization make cantilever racking very cost-effective and more economical than pallet racking.
The cantilever racking system easily stores: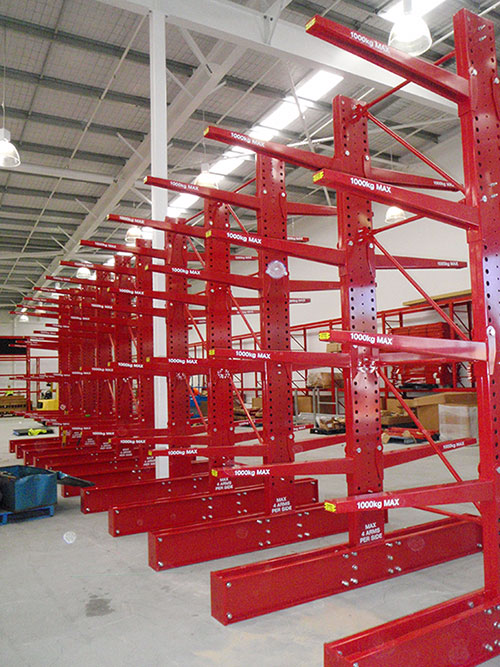 Steel bars
Wood
Plywood
Lumber
Furniture
Appliances
Pipe
Structural members
Sheet steel
Tubing
Doors
Boxes
Pallets
Conduit
Extrusions
Rolls
Building materials
Advantages of Cantilever Racking
The cantilever rack is durable and can handle heavy loads, making it a great choice for industrial storage.
Versatility: Cantilever racks are versatile, the arms are adjustable and can be customized to accommodate items of different sizes, and are the best racks for storing items of varying sizes and lengths.
Increased Storage Capacity: Provides greater storage capacity and efficiency for storing long items. Unlike traditional shelving, the cantilever has no vertical obstructions in the storage area, allowing you to make the most of the space on every floor or so.
Ease of Installation: Cantilever racks are relatively easy to install and require minimal tools.
Durable: Cantilever racks are made of heavy-duty steel and can hold a lot of weight.
Flexible: Cantilever shelves are highly flexible and can be easily adjusted to accommodate different types of items, allowing you to store items or materials of different lengths without disturbance, and preventing long items from being damaged in storage.
Cost-effective: Cantilever racking is a cost-effective solution for storing large and bulky items. They are also much less expensive than other types of storage solutions.
Our factory can customize and produce heavy-duty cantilever racks, mid-duty cantilever racks, and light-duty cantilever racks. If you are interested in finding out more about Cantilever Racks or Cantilever Rack Options, Request more information now.
Cantilever Racking System Cases Gallery